Baked potatoes have been done over and over. How about something new, like Baked Sweet Potatoes? This slight twist makes for an excellent side for fall and the holiday season.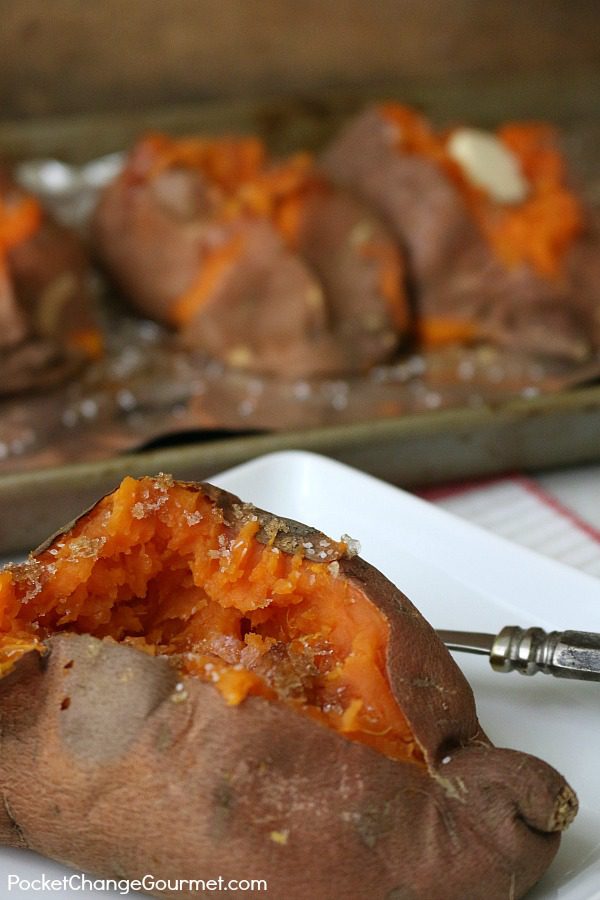 Fall is the time of year when things start to cool down. This also means that the kitchen is heating up! Nice and warm meals start to become welcome as we get closer to the time of Thanksgiving. One of these welcome dishes involves sweet potatoes. These potatoes can be done up in a number of different ways, but perhaps the easiest way is to bake them. That's right; just like regular potatoes, this variety can also be baked.
Our middle son and I are big fans of our Candied Sweet Potato Casserole, however baking them fresh probably are better for us.
This has got to be one of the easiest ways to prepare sweet potatoes. There was very little preparation put into these, yet the outcome is as delicious as ever. This makes these potatoes a great choice of side for any dinner, whether it's sided with turkey or not. And that's still not the best part of this dish! The best part is that you can make as much as you please. These potatoes are very leftover friendly in that you can put what's leftover into another dish. Dishes like Sweet Potato Bread. 
Sweet potatoes are great for a variety of dishes. Perhaps this one can be the start of your long line of sweet potato based dishes that leads into fall and ends up with a nice big side at the Thanksgiving table.
Baked Sweet Potato
Easy as 1-2-3 and SO delicious! Serve as a side dish, or use them in other recipes!
Author:
PocketChangeGourmet.com
Ingredients
Sweet Potatoes - fresh
Brown Sugar
Butter
Salt
Instructions
Preheat oven to 375-400 degrees - depending on how fast your oven cooks, my oven cooks really fast, so I always turn it down a bit
Line a cookie sheet with foil
Poke sweet potatoes with a fork several times on each side
Place on cookie sheet
Bake for 45-60 minutes depending on the size of the potatoes or until fork tender
Remove from oven
Slice open, sprinkle with brown sugar and salt
Top with butter