Comfort foods rule this week as we close out September. We'll keep the good foods rolling in as October makes its way around! When you are working with a budget for meals, it is vital that you make a menu plan up that takes advantage of sales, seasonal produce and ingredients you already have on hand. It's also important that your weekly menu plan has meals that are extra friendly to the budget.

Fall is officially here. As the season for comfort foods, we've got plenty to start your Fall off right.

Tuesday – Cheeseburger Sliders, Fresh Corn on the Cob, Green Beans






Head on over and grab your Printable Menu Plan for a quick reference when you head to the store! Or save it to your computer for easy access to all the recipes!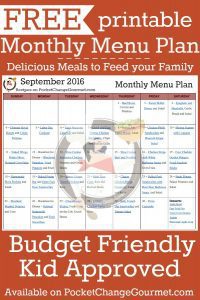 3+ Years of Monthly Menu Plans
 Eliot Martin is a book lover and a public relations graduate. He currently lives in the Phoenix area, where he spends most of his time playing video games or reading a good book. He enjoys going to comic cons and spending time with his friends and family, and when he is not writing for his own cooking blog, he keeps our readers hooked with his articles.