Have you enjoyed the September Menu  Plan so far?  With all the hustle and bustle right now it seems like September is nearly gone.  It's difficult to believe that October will be here in a little over a week.  While September is coming to a close we can look forward to another lovely meal plan next month.  We can't wait to share with you all the wonderful meals we have planned for your family to enjoy!
I think you'll find this week's meal plan to be very scrumptious with something for everyone!  There are some yummy comfort foods, quick sandwiches, and an awesome dessert to enjoy this week.  Of course, there's also Steak Dinner Night.  Can't wait for that one!
Once again, we've added a few coupons  you can print before you head out to shop.  Hopefully they'll help you save a little on your grocery bill.
Due to popular request, the Printable Menu is now available on a calendar in grid form.  Print and Enjoy!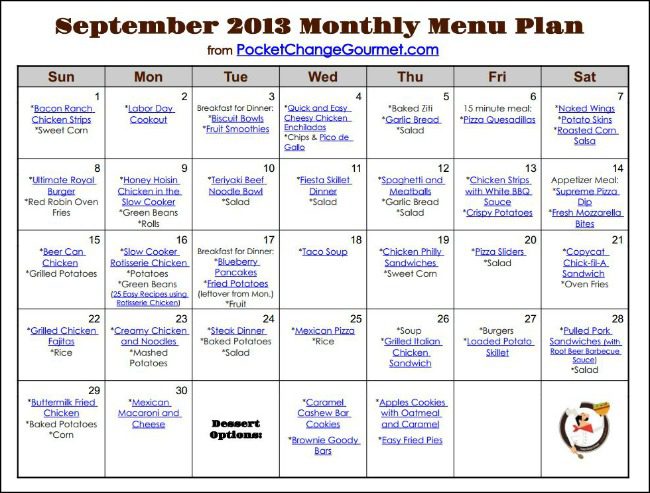 Head on over and grab your Printable Menu Plan for a quick reference when you head to the store! Or save it to your computer for easy access to all the recipes!
Tuesday – Steak Dinner, Baked Potatoes and Salad
Need more recipes? Check out our September Menu Plan 
 Eliot Martin is a book lover and a public relations graduate. He currently lives in the Phoenix area, where he spends most of his time playing video games or reading a good book. He enjoys going to comic cons and spending time with his friends and family, and when he is not writing for his own cooking blog, he keeps our readers hooked with his articles.