Our week draws to a close as busy as ever, with the end of the school year drawing near for both our college kids and high school student, baseball and track wrapping up, it's been busy. If you happened to miss it, we shared Mother's Day Brunch Menu and 40 Mother's Day Recipes for you to choose from if you are cooking for the special women in your life. If you are being treated to a day off, then pass along the recipes to that special someone who will be cooking for you.
Sunday – Hot Dog Bar, Potato Salad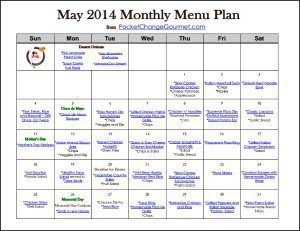 Head on over and grab your Printable Menu Plan for a quick reference when you head to the store! Or save it to your computer for easy access to all the recipes!
Brandon Dott is a chef who focuses on authentic American comfort food, from fried chicken to rich chocolate cake. He believes in the power of food to bring people together, and that food with soul can make the world a better place.