This quick and easy lunch recipe is not only delicious but it's also packed with healthy food. Layers of lettuce, tomatoes, beans, and more go into this Taco Salad in a Jar.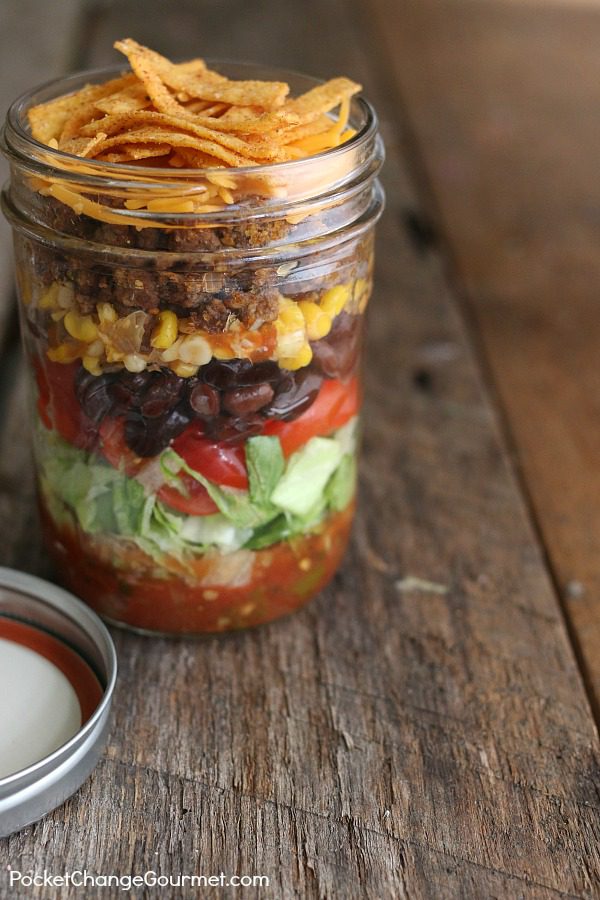 With Spring and Summer quickly approaching, it's nice to have lunch ready to go. We love heading to the park and beach when the weather is nice. With all the traveling we are doing to baseball games this Spring, it's great to have our lunch (or dinner) packed and ready to eat.
We have been trying to eat better, and honestly, the restaurants where you can get healthy food are few and far between. It also gets expensive to eat out a lot.
You can easily cut and prepare all the layers ahead of time, then the assembly of the salad in a jar goes super quick. Since I work at home, it's also nice to have lunch ready to eat.
You can certainly put whatever ingredients you like in your Taco Salad. I used salsa, lettuce, tomatoes, black beans, homemade corn salsa (we canned it last Fall), Taco Meat (I like to use the slow cooker), shredded cheese, and tortilla strips for a little crunch.
Tasty Taco Salad
Taco salad is a traditional Mexican dish that has become increasingly popular. People appreciate its flavor all over the world. The salad also has vegetables, chicken, or other meat toppings for protein and refried beans for carbs. This nutritious salad is made with ground turkey, black beans, veggies, and all of your favorite taco toppings.
This tasty salad is simple to prepare and would be perfect for taco Tuesday dinner or meal prepping into Mason jar salads for all-week lunch breaks. Even at your upcoming taco bar celebration, you can serve it. Making your salad gives you more choices over the ingredients. This can be made as healthy or unhealthy as your preferences and depends upon a selection of ingredients. Placement is the secret to producing excellent taco salad. Since a salad in a jar is made to be consumed later, layering your salad will prevent any components from being squeezed or mushy, even after several days in the refrigerator. The most crucial factor in ensuring that greens stay fresh and crispy.
Taco Salad Has Salsa, Dressing, and Juicy Vegetables in a Jar
Salsa, Dressing, and juicy vegetables like tomatoes perform well at the end of the jar. Due to this action, you can avoid over-moisturizing the remaining salad. The crushed tortilla chips must be added just before the lettuce for the same reason. They won't get wet if you place them near the top. Mason jar lunches are excellent for dining on the go almost anywhere because they are quick, practical, ready to eat, and accessible. They are a great lunch option because they can be prepared ahead of time.
Print
Taco Salad in a Jar
This quick and easy lunch recipe is not only delicious, it's packed with healthy food! Layers of lettuce, tomatoes, beans and more!
Salsa – homemade (recipe here) or store bought
Lettuce – cleaned and cut
Tomatoes – cleaned and quartered
Black Beans – drained and rinsed
Corn Salsa – homemade (recipe here) or store bought
Taco Meat – Slow Cooker recipe here
Cheese – your favorite shredded
Tortilla Strips or Corn Chips
Mason Jar – any size will work, I found that wide mouth jars work best
Instructions
Cook taco meat
Cut lettuce and tomatoes
Drain beans
Layer ingredients – salsa, lettuce, tomatoes, black beans, corn salsa, taco meat, cheese and tortilla strips
Add lid to jar
Store in refrigerator until serving
Author:

Prep Time:

10 mins

Cook Time:

10 mins

Category:

Salad
Why You'll Love This Taco Salad Recipe?
Super easy to make: The taco meat only needs to be cooked for around 15 minutes, which is the longest element of this dish.
Healthy: This taco salad is free of gluten, packed with protein, and will keep you full without making you feel guilty or bloated.
Delicious: The ideal combination of taco seasoning, tastes, and garnishes for this Juicy taco meat.
Customizable: Use all of your preferred taco ingredients to create an incredible salad.
Make-ahead: For a quick dinner salad after work, you can stack this salad into mason jars or keep the taco meat and other items in the freezer.
Health Benefits
1. Provide energy
The biggest advantage of this is that it gives you enough energy. You can obtain 289 calories from 198 grams of taco salad, which is more than enough to carry out your daily activities. The tortilla and rice, as well as the protein found in the beef or chicken, provide the taco salad's calories.
2. Maintain a normal heartbeat
Potassium is an important component of taco salad ingredients and it is known to regulate proper heartbeat. A person's chance of developing heart failure, which can be fatal, is reduced the risk of heart attack by maintaining a normal heartbeat.
3. Help to repair body cell
Almost every cell and organ in the human body is made up of proteins. It not only provides energy but also supports the body's ability to cure itself.
4. Keeping normal metabolism
Taco salad's contents include Vitamin B complex, which is necessary to maintain a regular metabolism. For a body cell to produce energy, metabolism takes place, and this vitamin B is a cofactor for various metabolic enzymes.
5. Strengthen bones
You can get a small amount of calcium from the cheese and beef in taco salad. One essential element for maintaining strong bones and preventing them from losing strength is calcium. You can increase your calcium intake by eating more cheese.
6. Prevent tooth decay
In addition to supporting bones, calcium is crucial for tooth growth and maintenance, protecting teeth from damage or infection.
7. Prevent scurvy
Some of the vegetables in taco salad and tomatoes in salsa sauce both contain vitamin C which is useful in preventing scurvy. Other vegetable ingredients in taco salad also supply vitamin C. Your salad will be healthier if you add additional vegetables to it.
8. Prevent anemia
Eating taco salad throughout the day will indeed help you stay fit, as the salad provides calories as well as a little bit of iron. For red blood cells to continue functioning normally, iron is an essential mineral. Your body may become anemic and feel weak if you don't get enough iron.
9. Improve vision
Vitamin A, an antioxidant and essential component for maintaining healthy vision, completes the taco salad. It guards against vision and retinal deterioration in the eye.
10. Promote good digestion
Without iceberg lettuce, tomatoes, and other veggies, taco salad will not taste well. Salad is considered a wholesome food that might improve the digestive system. It contains a small quantity of fiber, which might facilitate bowel movements and prolong feelings of fullness.
11. Strengthen the immune system
Taco salad has some unique advantages, one of which is its capacity to build and bolster the immune system. Also, it gives your body the vitamins and minerals it needs to stay healthy by including certain vegetables and condiments. So, Taco salad's vitamin C and vitamin A content can boost immune cells' capacity to combat infections that cause particular diseases.
12. Treat PMS (premenstrual syndrome)
Period pain syndrome, which typically affects women throughout their monthly cycle, can be extremely irritating. Menstrual cramps, mood swings, weakness, and other symptoms of PMS are complex disorders that can interfere with a woman's daily activities. Since it contains some vitamin B, iron, and magnesium, eating one at lunch can help to lessen the symptoms of PMS. Iron maintains regular oxygen transfer, vitamin B boosts energy levels, and magnesium relaxes muscles and nerves.
13. Maintain a healthy brain
Protein and antioxidants in taco salad can support continued good mental health. The protein in it can stimulate the development of new brain cells and repair nerve damage. Antioxidants help shield the brain from several injuries that might cause conditions like Vascular dementia.
14. Lowering blood pressure
The high potassium content of the salad may assist to decrease blood pressure. However, it must be understood that consuming extra salt or sodium in your taco salad or other condiments may put your pulse rate at risk. Increase the salad's nutritional value by including extra fiber and low-sodium dressing.
Storage Tips
Store: These healthy taco salads in a jar can be prepared up to 5 days in advance.
The taco meat can be prepared ahead of time and kept in the refrigerator for up to 5 days if you're going to eat these salads for dinner. You may either enjoy the taco meat cold or reheat it in the microwave for one to two minutes until hot.
Freeze: Taco meat dinners can also be frozen for later use. Place the taco meat in airtight containers or silicone trays (like Souper cubes) after it has cooled, freeze it, and then reheat it in the microwave or a pan.
Nutrition Information of Taco Salad
Per serving:
| | | | |
| --- | --- | --- | --- |
| Calories | 289 kcal | Carbohydrates | 26 g |
| Protein | 28 g | Fat | 8 g |
| Saturated Fat | 4 g | Potassium | 539 mg |
| Iron | 5 mg | Sodium | 860 mg |
| Vitamin A | 180IU | Fiber | 1 g |
| Sugar | 12 g | Vitamin C | 2 mg |
| Cholesterol | 110 mg | Calcium | 55 mg |