What's better than relaxing by the pool, on the beach or even on the porch with a delicious, refreshing drink? We have plenty of drinks you can enjoy wherever you are with our Summer Drink Recipes! These drinks will definitely keep you cool this summer!

I've always enjoyed a cold, refreshing drink during the hot summer days. There are so many to choose from and so many delicious drinks to enjoy! Whether it's a sweet, frozen slush or a fruity lemonade there's always a drink for everyday of the week. Any drink is perfect for the beach, park or porch but why not make something special to enjoy in the sun? Choose from several of our Summer time drinks that everyone will enjoy! You can always add a little alcohol to any of them for adult happy hour!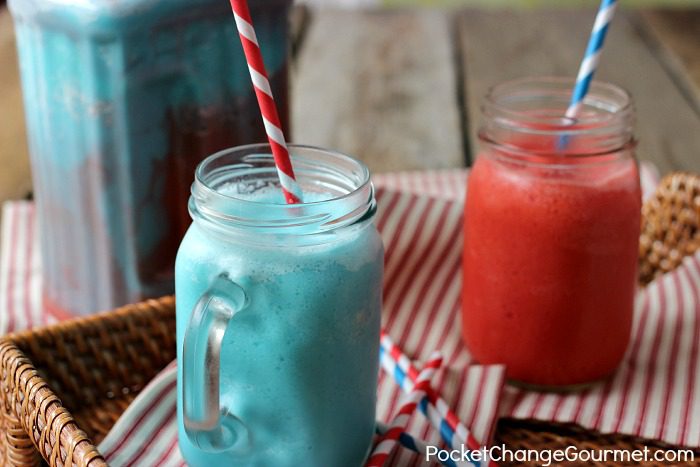 Homemade Slushies with Ice Cream are cool, refreshing drinks made with ice, ice water, sugar, Kool-Aid and ice cream! They're perfect for the kids and can come in many fantastic colors! They're a perfect treat for an afternoon by the pool.
Enjoy a healthy, sugar-free drink with our Skinny Strawberry Lemonade. It's a simple blend of strawberries, lemonade and Truvia! A great refresher after a long day of working in the garden, a long walk or a day at the beach!
Blueberry Kiwi Lemonade Slush are a delicious mix of kiwi, blueberries and lemonade! They're a perfect drink for kids and adults. You can even add a little alcohol to them for parties! Ice cold and perfect for a summer's day!
Razzle Dazzle Berry Tea is a sweet tea with a tangy flavor of lemonade and a fruity blend of berries! It's perfect for parties, relaxing on the deck or by the pool. This is also a great drink to add a little alcohol to and make a Razzle Dazzle Berry Long Island Iced Tea!
Blackberry Mojitos are the perfect adult drink for a poolside party or cookout! Mixed with Everclear, club soda, and blackberries you'll definitely enjoy the Blackberry Mojito during the summer! You can also make this one a kid friendly drink by removing the alcohol!
My favorite kind of summer drink has always been floats. These Berry Ice Cream Floats are simple to make, made with natural sweeter and delicious to drink! You can even mix it up and add different types of berries!
Fresh Squeezed Sugar-Free Lemonade is a refreshment that's perfect for a Summer's afternoon! It's made with natural sweetener, a perfect alternative to sugar. It's as delicious as it is easy to make!
Did I mention floats were my favorite summertime drink? These  Watermelon Sherbet Floats are a great treat when it comes to sherbet and fruit all in one glass! Made with just 3 ingredients, they're perfect for a quick dessert after a day in the sun.
There's a great way to have a taste of Sonic's Cherry Limeade without leaving your home! Our closest one is an hour away so why not make one of our own to enjoy at any time?  Save yourself a trip and make your own Cherry Limeade – Sonic Copycat Recipe for the summer!
This Berry Punch Recipe is a quick and refreshing drink that's fun for everyone! Kids will enjoy the sweet taste as well as the fun fruit filled ice cubes inside! Perfect for a picnic, a day at the beach or just hanging out with the family at home!
In addition to being a skilled and passionate chef, Caroline is an awesome mother of two. In her spare time, Caroline pursues her passion for cooking by experimenting with new dishes and developing some of her very own. Her expertise and research are then condensed into comprehensive, easy-to-read guides and resources for readers who are looking for budget-friendly recipes for the whole family.