Eureka! Sometimes I amaze myself, with Liz gone the past couple of days it's been all up to me to get meals on the table for the family. So I decided to experiment with some seasonings that she doesn't necessarily like, or at least the amount. I've been seeing some chefs on TV preparing their meat encrusted in Sea Salt and first thought about trying that but after doing a little research wasn't too confident in the possible end result. But I did run across an idea for a SlowCooker Salt Crusted Pork Roast.
The spice blend is a combination of salt, pepper, garlic powder,paprika, dry sweet basil and ground sage. I seem to be adding paprika to almost every recipe lately, don't really know why.
After mixing the spices together in a small bowl I patted the roast dry with paper towels, rubbed the spices on and browned outside of the roast on the stove to give it a nice crust.
I could have cooked the roast in the oven but chose to do it in a slow cooker, and I learned something else.
Sometimes it pays to be a little scatter-brained… I threw the roast in and turned the slow cooker to low, or what I thought was low. Only two hours later when I checked on the progress I realized that I had placed it on the keep warm setting. It was cooking slow but I thought I'd take a chance and see how it panned out, I could always whip up something quick for dinner if need be.
After 8 hours in the slow cooker the pork roast was done and I'll have to say cooking the pork this way yielded the tenderest meat I've had in a while, and to top it off it wasn't overcooked like sometimes can happen when placing meat for an extended period in your slowcooker. I love the seasoning blend I used so well, I made up another batch just to have ready for the next time Liz is gone and I get the itch to experiment in the kitchen again.
This would be a great idea for an easy Valentines dinner if  you are running short of time in the evening.
Print
Slowcooker Salt Crusted Pork Roast
This slow cooker recipe makes the pork roast juicy and tender. Recipe from PocketChangGourmet.com
Total Time:

8 hours 15 minutes
2

–

3

pound Pork Sirloin Roast
Seasoning Blend
1 Tablespoon

salt

1 Tablespoon

black pepper

1 teaspoon

garlic powder

1 teaspoon

paprika

1 teaspoon

dry sweet basil

1 teaspoon

ground sage
Instructions
Mix the seasoning blend together in a small bowl
Pat dry the roast and rub seasoning blend into meat, coating well
Brown the roast on the stove top over medium heat, 2-3 minutes on all sides until you get a nice carmelization
Cook in a slow cooker for 8 hours on the keep warm setting until internal temperature is 145 F
Remove from cooker and allow to rest for 5-10 minutes before slicing
Prep Time:

15 minutes

Cook Time:

8 hours
Here are some other ideas for Valentines Dinner…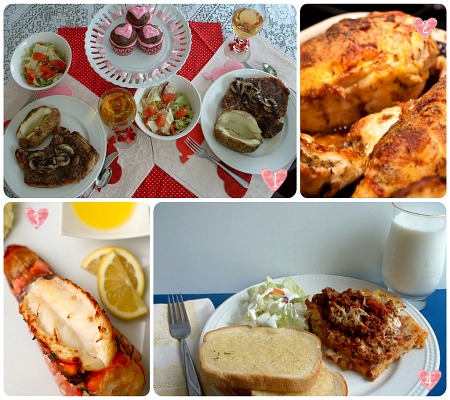 This Steak Dinner would be a hit in our house. I was surprised that it was so affordable.
Fried Chicken is a favorite too. This Oven Fried Chicken from Add A Pinch looks delish!
Lobster..Oh my!! I'm not sure I'm brave enough to cook that, but Annie's Eats did.
My family loves my Lasagna too!
Linking to… Show and Tell Friday, Food Friday, Simply Link Party, Saturday Night Special