So I read somewhere on the internet that today is National Ditch Your New Year's Resolution Day. How absurd! A day to celebrate giving up? Not on my watch! Instead of giving up on those resolutions, see today as the day to beat and keep those resolutions. We're here to help you with those resolutions to stay healthy.
It can be a struggle to eat healthy, but ultimately we all need to eat better. I see taste as a struggle, as well as time. It's still important to get dinner on the table quickly. These Shredded Beef Lettuce Wraps are a great Make Ahead Meal that the whole family will love. 
Beginning with Slow Cooker Shredded Beef including lots of flavor from Roasted Garlic Rice Vinegar, Brown Sugar and Cumin, then a simple piece of bib lettuce filled with the Shredded Beef and topped with Radish MiniSticks, Carrot Sticks and a sprinkle of Green Onions. Pulling it all together is a delicious Asian Sauce made with Brown Sugar, Ginger, Garlic, Soy Sauce and more.
Cooking the Beef Roast ahead of time makes this meal super easy. You could also serve the Roast for one meal, then use the leftovers in the Lettuce Wraps, making the Beef Roast stretch into two meals.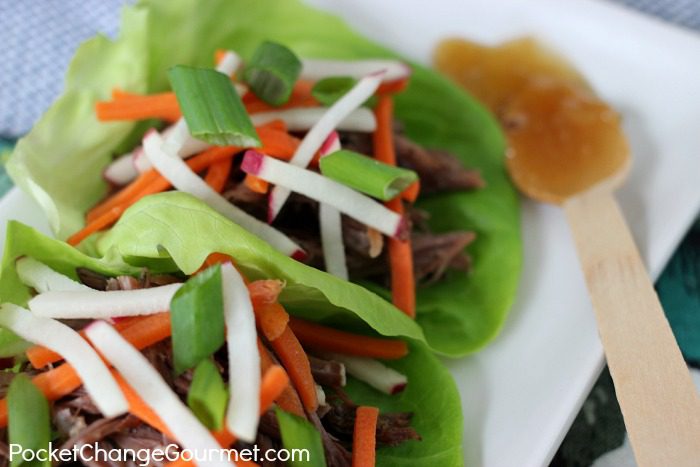 Mini radish sticks are available in the produce section at grocery stores. They are ready to use in your salads, sandwiches, salsas and more. They add crunch to tuna or chicken salad, can be used as a topper for soups and salads, or mixed with mayo for a zippy spread or even top tacos, nachos and burritos.
Shredded Beef Lettuce Wraps
Healthy, easy make-ahead meal the whole family will love. Recipe from PocketChangeGourmet.com
Total Time:

6 hours 15 minutes
Shredded Beef Roast
4

–

5

pound Beef Chuck Roast

2 1/2 cups

Beef Broth (enough to cover roast)

1/2 cup

Brown Sugar, packed

1/4 cup

Roasted Garlic Rice Vinegar

1 tablespoon

Soy Sauce

1/2 teaspoon

Ground Cumin
Lettuce Wraps
Bib Lettuce (or Ice Berg, Head Lettuce, your favorite)
Radish MiniSticks
Carrots Sticks
Green Onions
Asian Sauce
3/4 cup

Water

2 teaspoons

Cornstarch

1/3 cup

Roasted Garlic Rice Vinegar

1/4 cup

Brown Sugar

1 1/2 tablespoons

Soy Sauce

1 tablespoon

Fresh Ginger,grated

2

cloves Garlic, minced
Instructions
Shredded Beef
Heat a large skillet with 1-2 tablespoons oil until very hot, add salt and pepper to roast.
Place roast in skillet and brown on both sides and edges, cooking about 2 minutes each side
Whisk together remaining ingredients, pour into Slow Cooker and cook on low for 6-8 hours, or on high for 4-5 hours. (cooking on low is better)
Eat right away: let roast cool slightly, shred with 2 forks and fill lettuce
Eat next day: place roast in refrigerator, when ready to serve, remove about 30 minutes before, slightly heat, shred with 2 forks and fill lettuce
Asian Sauce
Whisk together water and cornstarch, set aside
In a small saucepan, add all ingredients, heat to slight bubble
Whisk in cornstarch mixture, cook sauce on medium-low stirring frequently until thick
Let cool slightly
Store leftovers in refrigerator, heat slightly before serving
Lettuce Wraps
Add small amount Shredded Beef to lettuce, top with Radish MiniSticks,Carrot Sticks and Green Onions
Spoon on Asian Sauce
Notes
This recipe will make a lot. You can get 2 meals from the roast. The first meal can be the roast, then serve the leftovers in the Lettuce Wraps.
Prep Time:

15 minutes

Cook Time:

6 hours
In addition to being a skilled and passionate chef, Caroline is an awesome mother of two. In her spare time, Caroline pursues her passion for cooking by experimenting with new dishes and developing some of her very own. Her expertise and research are then condensed into comprehensive, easy-to-read guides and resources for readers who are looking for budget-friendly recipes for the whole family.