With the start of the school year, lots of extra planning needs to be done, and packing lunches can often get pushed aside until the last minute. Having these Quick and Easy Lunchbox Ideas on hand is sure to make your school year a little easier…and your kiddos a little happier!
School has started for a lot of kids now. Luckily for me my boys are all out of high school(although one will be heading to college soon), but some of your young ones may still be caught up in the rush of a changing schedule. One thing that often gets lost in this rush is lunch. Whether your headed out to school, or just headed out, lunch is essential.
This spin on the traditional Peanut Butter and Jelly Sandwich are just about as fun to make as they are to eat. Your kiddos will gobble them up…but be sure to make extra because you are going to love this Peanut Butter and Jelly Sushi too!
Peanut Butter and Jelly Sushi
Bread (I used white sandwich loaf)
Peanut Butter
Jelly
Cut the crust off the bread, then roll the bread with a rolling pin (or heavy can) to flatten. Spread with peanut butter and jelly. Roll up and cut into small pieces.
My boys often have Peanut Butter & Jelly on their waffles, but I had never thought about making them into little sandwiches. I think the mini waffles would be perfect for these sandwiches, but to save a little money, we simply used regular size waffles, toasted them, spread on Peanut Butter and Jelly and made them into a sandwich. Then for easier handling, I cut the waffle sandwich into 4 pieces.
Up next are the Pizza Bagels, which are great for any age. My oldest son loves them!
Pizza Bagels
Cut bagel apart, spoon a little pizza sauce on bagel, sprinkle with cheese and top with pepperoni.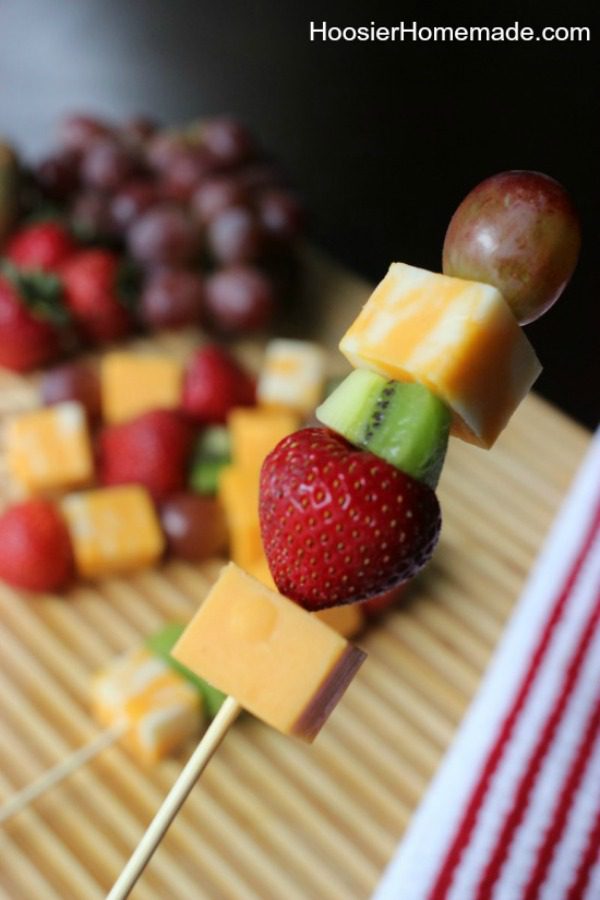 Every kid…and adult loves food on a stick. No matter what age you are, they are just fun to eat! That's why we've made these Fruit and Cheese Kabobs for a fun lunch.
Fruit Kabobs
Block Cheese, your favorite kind
Grapes, Strawberries, Kiwi or favorite fruit
Sticks – we used Skinny Sticks, found in the craft department, skewers are sharp for little hands
Cut cheese with small cookie cutters. Thread fruit and cheese onto sticks.
Sometimes lunch isn't the only meal that gets forgotten. Sometimes children need to go to school early, and breakfast isn't always an option until they arrive at school. So how about starting their day off right with healthy breakfast?
This Healthy Breakfast Bar is easy to set out in the morning, or even pack into a lunch.
What is your favorite lunch?