It's hard to believe that October is upon us. Very soon it will begin to cool off and fall will be sweeping in. The weather men are beginning to make comments about a "harsh winter." While I'm not looking forward to that, I am looking forward to warm soups, comfort foods and everything pumpkin flavored. Our October Menu Plan certainly offers plenty of the comfort food.
My ideas of comfort foods are ones that remind me of my childhood- Chicken Pot Pies, Meatloaf, Beef and Noodles, and Mom's Homemade Apple Crisp. We've got each of those this month. What comfort foods do you enjoy?
We have many readers asking for all of the Monthly Menu Plans and the Printable pages to be in one location. So, we put them all together on a special page for everyone. Grab over 3 years worth of Budget Friendly Recipes and Menu Planning Tips too!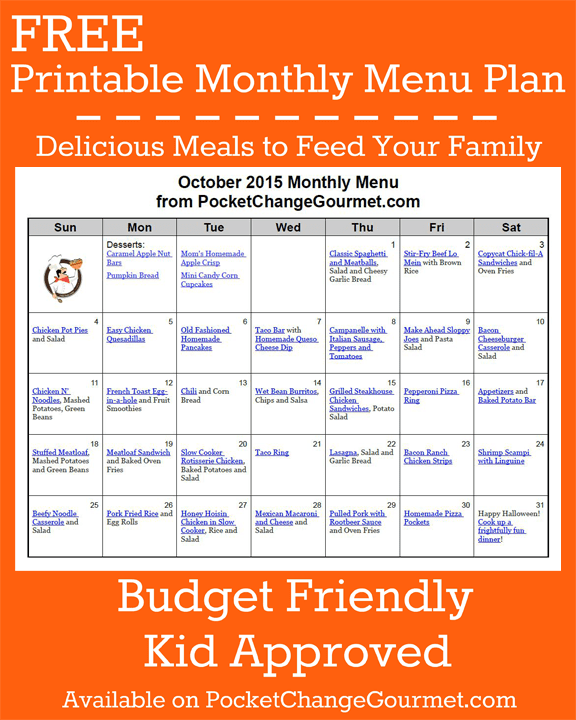 You can find 3 years worth of printable menus > over here!
October Menu Plan
1 – Classic Spaghetti and Meatballs, Salad and Cheesy Garlic Bread
2 – Stir-Fry Beef Lo Mein with Brown Rice
3 – Copycat Chick-fil-A Sandwiches and Oven Fries
4 – Chicken Pot Pies and Salad
6 – Breakfast for Dinner – Old Fashioned Homemade Pancakes
7 – Taco Bar with Homemade Queso Cheese Dip
8 – Campanelle with Italian Sausage, Peppers and Tomatoes
9 – Make Ahead Sloppy Joes and Pasta Salad
10 – Bacon Cheeseburger Casserole and Salad
11 – Chicken N' Noodles, Mashed Potatoes, Green Beans
12 – French Toast Egg-in-a-hole and Fruit Smoothies
13 – Chili and Corn Bread
14 – Wet Bean Burritos, Chips and Salsa
15 – Grilled Steakhouse Chicken Sandwiches, Potato Salad
16 – Pepperoni Pizza Ring
17 – Appetizers and Baked Potato Bar
18 – Stuffed Meatloaf , Mashed Potatoes and Green Beans
19 – Meatloaf Sandwich and Baked Oven Fries
20 – Slow Cooker Rotisserie Chicken, Baked Potatoes and Salad
21 – Taco Ring
22 – Lasagna, Salad and Garlic Bread
23 – Bacon Ranch Chicken Strips
24 – Shrimp Scampi with Linguine
25 – Beefy Noodle Casserole and Salad
26 – Pork Fried Rice and Egg Rolls
27 – Honey Hoisin Chicken in Slow Cooker, Rice and Salad
28 – Mexican Macaroni and Cheese and Salad
29 – Pulled Pork with Rootbeer Sauce and Oven Fries
31 – Happy Halloween! Cook up a frightfully fun dinner!
Desserts for the Month
Brandon Dott is a chef who focuses on authentic American comfort food, from fried chicken to rich chocolate cake. He believes in the power of food to bring people together, and that food with soul can make the world a better place.