The holidays can be overwhelming, especially if you are hosting a big dinner. But if you have a few special tricks in your back pocket, like how to freeze Mashed Potatoes, the holidays can be much easier than you think.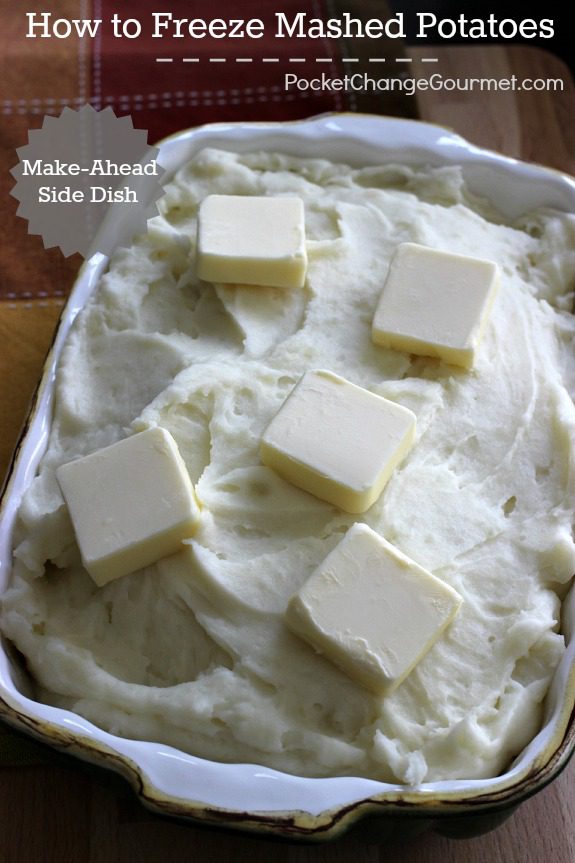 Hosting a big dinner during the holidays is something I love to do, but let's be honest, it can be exhausting. I have learned a few tricks over the years to help ease the stress of preparing all the food. Freezing mashed potatoes is one of the simplest ways to free up your time to prepare your home and the main dishes during the holidays.
The other great thing about freezing mashed potatoes, is when there are leftovers. I don't know about you, but I always seem to miscalculate how many potatoes I need to boil. Either I make too many, or I think there are going to be more people eating dinner, and we end up with leftovers. One of the side dishes that I make my family, that was passed down from my Mom, are Mashed Potato Patties. Leftover mashed potatoes are perfect for that recipe.
Tips for How to Freeze Mashed Potatoes – the perfect Make-Ahead Dish
Be sure to start with Fluffy Mashed Potatoes that have plenty of creamy, goodness in them. There is nothing worse than dry mashed potatoes. Fluffy Mashed Potatoes Recipe
After the potatoes are whipped, let them cool slightly, then spread them evenly into a baking dish
Add butter – we like adding several tablespoons of butter before freezing, this will give the potatoes even more flavor when reheated
Wrap tightly with plastic wrap. Don't forget to label them with thawing and cooking instructions
You can also freeze in a plastic resealable bag or scoop the potatoes into individual portions and freeze.
To reheat frozen mashed potatoes, let thaw in the refrigerator over night. Then heat in oven at 350 degrees for 20-30 minutes or until heated through
Slow Cooker option – you can also remove from the freezer, thaw in refrigerator and heat in the Slow Cooker for 2-3 hours or until heated through
Mashed Potatoes can be frozen for up to 2 months
We are helping you plan your Make-Ahead Thanksgiving. Watch for our Make-Ahead Turkey and also our Turkey Gravy recipe coming this week!
 Eliot Martin is a book lover and a public relations graduate. He currently lives in the Phoenix area, where he spends most of his time playing video games or reading a good book. He enjoys going to comic cons and spending time with his friends and family, and when he is not writing for his own cooking blog, he keeps our readers hooked with his articles.