Did you know that you can make a homemade barbecue sauce that rivals any bought in the store in just fifteen minutes or less? But wait. That is not all. It's going to save you some money in your pocket too. Sound like a good deal? We certainly think so. It's so good that it's earned the nickname liquid smoke around the block in our neighborhood.
Who knew that a delicious homemade bbq sauce could be so easy to make? Skip out on those store-bought brands and make this simple recipe for yourself. This recipe makes the perfect blend of flavors. It tastes fantastic on grilled chicken, ribs, wings, sandwiches, pulled pork, meatballs, you name it. You will never want to spend your money on those name-brand bottles again.
Making your sauce takes just minutes, but often it's even easier to pick up a bottle at the store. This homemade barbecue sauce may have you rethinking your trip to the store.
Tips & My Experiences
For as long as I can remember, I have been making this barbecue sauce. A few days ago, when I asked Doug to put some chicken breasts in the slow cooker with barbecue sauce, he asked me for the recipe. Even though I have it memorized because 1) it's so easy you can't forget it, and 2) I've made it so many times I know it by heart, I told him it should be on one of the blogs. Then with a quick search, we realized that we have never shared the recipe. We needed to fix that.
With just three ingredients that I bet you have on hand, you can whip up this barbecue sauce in minutes. We use it in several recipes, including some for meatballs, chicken, pork, and even just for dipping.
Feel free to add some other ingredients you think might be good to our recipe. Make it spicy, tangy, or just however you like it. One of the fun things about cooking is that you don't always have to follow a recipe precisely by the book. A few ingredients that friends and family have liked to add to it include Worcestershire sauce, soy sauce, chili powder, garlic, apple cider vinegar, and hot sauce. See? We told you there are plenty of ways to customize this barbecue sauce recipe. Read on, and we'll give you even more options.
Again, you're welcome to improvise a little and put your twist on our barbecue sauce recipe but make sure to grab some ketchup, sugar, and vinegar, and get ready to get started.
How to Make Homemade Barbecue Sauce?
Alright, it's time to get started on making your delicious homemade barbecue sauce. Grab a bowl to mix the ingredients, prep the crockpot for your meat on the side (how about some tasty ribs?), and get ready for a myriad of mouth-watering flavors. You won't want to wait to taste it.
One of the best things about this recipe is it only calls for three main simple ingredients that you are likely to already have on hand.
First, start by measuring three-fourths a cup of ketchup and add it to your mixing bowl.
Second, measure out one-half a cup of packed brown sugar and stir it in.
Finally, you are going to add one tablespoon and then one teaspoon of vinegar. Make sure it is stirred well so that the sugar blends. Using a whisk is the easiest way to blend all of your ingredients. Feel free to store the leftover ingredients inside your fridge in a sealed container.
Now it's time to heat it. When the sauce is warmer, it seems to bring out the flavor of the meat better. Pour your sauce into a medium saucepan and keep the heat of the stove between medium and low heat. After all, you don't want your sauce to burn and stick to the sides of the pan! Bring your sauce to a light boil (slightly bubbling) and then let it simmer for twenty to thirty minutes.
Once the sauce has thickened a bit, feel free to add a pinch of salt and pepper according to your preferred taste. You can also add in some red pepper flakes and another splash of hot sauce. Finally, remove the barbecue sauce from the heat and allow it to cool before serving.
Homemade Barbecue Sauce Recipe
Get Creative with the Barbecue Sauce
Want to add some fun variations to our homemade barbecue sauce recipe? We have just the thing. Feel free to use any of the ingredients we mentioned earlier to give it an extra kick. The simple three-ingredient recipe we listed is sweet and tangy. For those of you who like an extra kick, add a splash of hot sauce into the mix.
If you want to add in some Worcestershire sauce, hot sauce, soy sauce, garlic, or garlic powder, that is up to you. We've even heard from a few folks who added maple syrup or mustard. At the same time, we prefer spicy or slightly tangy flavors, to each his own. As we said, it all depends on taste. Feel free to make substitutes as needed.
How Long will the Recipe Last?
This is one of the questions that we are asked most frequently. How long will the homemade barbecue sauce last? We have some good news for you. This recipe keeps very well in the refrigerator. Pour it into an airtight container like a mason jar (after it has cooled, of course). The sauce will keep in the refrigerator for up to two weeks. Let's just hope that it lasts that long with a hungry family around. In our house, it's always eaten up in a day or two!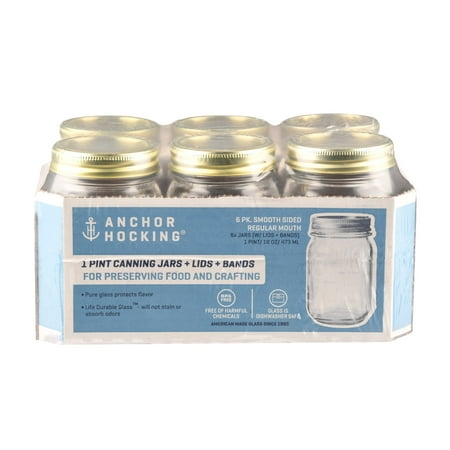 Get storage jars at Walmart.com
Dishes for Your Homemade Barbecue Sauce
Are you wondering how to use your homemade barbecue sauce? For those of you who are new to cooking, we have a few tips for ways to eat this delicious recipe. As we mentioned earlier, you can use it on chicken, meatballs, ribs, pulled pork, meatballs, sandwiches, and even pizza. Here are a few of our favorite ways to use this recipe:
Chicken: How many times have you eaten grilled chicken with a side of barbecue sauce? Each time,

I'm sure

it's been delicious. Just imagine how good your homemade barbecue sauce is going to taste on it. Whether you are eating grilled chicken by itself, having chicken wings, or enjoying a tasty salad, you really can't go wrong. It's so easy and delicious!
Meatballs: These are one of our all-time favorite appetizers. Seriously. How can you go wrong with meatballs? Whether you decide to make some turkey or beef meatballs, the homemade barbecue sauce will pair with them beautifully. Bon appetit!
Pizza: Okay, hear us out. Have you ever had barbecue sauce on pizza? If your answer is no, you haven't truly lived. Add your sauce to some pizza dough, sprinkle some grilled chicken on, and voila. You have yourself a barbecue chicken pizza. Yum.
Ribs: Can you even enjoy ribs without some delicious barbecue sauce to give them just the right taste? We'll go ahead and answer that question for you: no. Ribs are tender, savory, and amazing on their own. With this sauce, they are twice as good.
Final Thoughts
Finally, you know not only how to prepare and store your homemade barbecue sauce, but also where you can use it. That's amazing! We all just love this sauce and (if we are alike) you'll be using it on almost everything. However, if you are interested to use it only in the types of food that request barbeque sauce, try one of the recipes I previously mentioned.
Last but not least, it's time for you to share your thoughts, experiences, and advice on this recipe of mine! So, tell us everything in the comment section below: What's your favorite recipe to use Barbecue Sauce on? Are you satisfied with the ingredients, taste, and consistency of the sauce? If not, what would you change? Did you improvise when you prepared the sauce? What did you change? Where are your loved ones impressed by its taste?
Brandon Dott is a chef who focuses on authentic American comfort food, from fried chicken to rich chocolate cake. He believes in the power of food to bring people together, and that food with soul can make the world a better place.