Looking for an easy dish that everyone will love? This easy Hashbrown Casserole with Ham is the perfect answer. My family is in love with this one because we can easily prepare it. Moreover, it combines our two favorite ingredients: cheese and ham. So, since I discovered it, my children are over the moon and my husband even learned to make it by himself. That's sincerely something new!
Therefore, if you need a dish for brunch or dinner, this recipe of cheesy hashbrown casserole with ham is sure to please everyone at your table. It's easy to make and you can even put it together ahead of time. That's a real forte for someone with a crazy schedule like me! And it's also a great way to use up your leftover ham.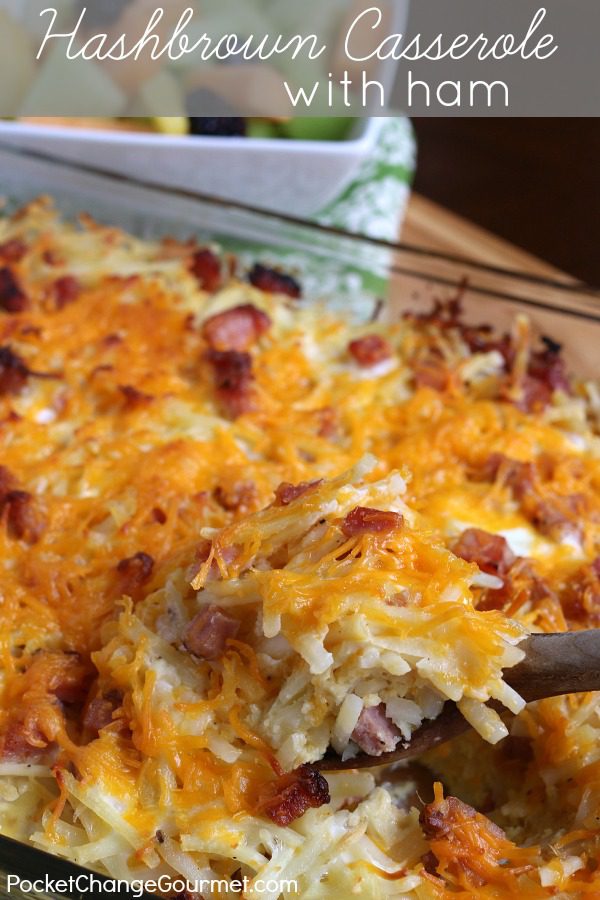 Hashbrown Casserole with Ham and Cheese For Holidays
One of the best ways to stretch your grocery budget is to use sale items. Also, during the holidays is just the perfect time. So, around Easter, I usually find a dozen eggs for less than the change in the bottom of my purse. Not to mention, ham is never a fortune. In this way, this recipe became one of our favorites, being a friendly-budget one and such a delicious one too.
This Ham and Egg Casserole is one of our favorites and also a reader favorite. The cheezy taste makes everyone go insane and the simplicity of the preparation process makes me the happiest too. So, maybe it's time to give it a try yourself!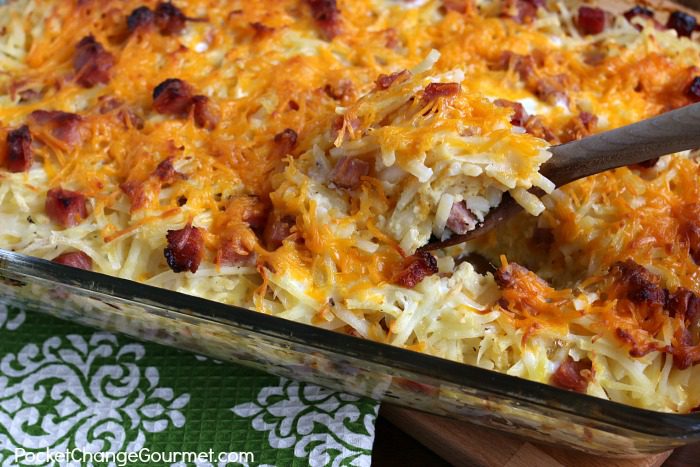 Preparing Hashbrown Casserole with Ham
It is almost a tradition that on holidays people cook too many festive dishes and a lot of food usually goes to waste. That's such a tragic fact for all our work and also for the planet. So, why not recycle some of the leftovers? This recipe is exactly what you need when your family won't touch the ham from the back of your fridge.
First of all, the most important advice from them is to consider freezing the leftovers. Also, try to cook dishes that can go in the freezer without losing too many nutrients and taste proprieties. In this way, you'll be able to recycle them later on.
However, earlier this week, after looking through the freezer and finding ham that was leftover from Christmas, and a bag of hash browns, I just knew it was time to make them disappear. I have to admit that it's wonderful not to have to go shopping every time I want to cook something. Having everything in hand is just bliss.
Hashbrown Casserole with Ham Is Inspired By Breakfast Pie with Hashbrown Crust
How did we discover this recipe? It was pretty simple. Inspired by our Breakfast Pie with Hashbrown Crust, we changed the bacon to ham. Moreover, instead of a crust, we simply tossed it together with hash browns, some cheese, and ham. Then, we thought about adding them to a 13×9 baking dish so the poured eggs and milk can make a special crust on top.
All in all, to make dinner quick and easy, we decided to just toss together the ingredients and see how it would turn out. The result – the Hashbrown Casserole with Ham. And we all loved it! Even my picky eaters went back for seconds. I say that's a win-win! Not to mention that you can also use bacon or sausage if that's what you have in hand.
Hashbrown Casserole with Ham
Toss together this casserole in minutes, using up leftover ham.
Author:
PocketChangeGourmet.com
Ingredients
1 bag (32 oz) Shredded Hashbrowns, thawed
4 tablespoons butter, melted
¼ teaspoon salt
¼ teaspoon pepper
3 cups ham, chopped
2¼ cups sharp cheddar cheese, grated, divided (save ¼ cup of topping)
8 eggs
1 cup milk
Instructions
Preheat oven to 350 degrees and spray a 13x9 baking dish with non-stick cooking spray
In a very large bowl, combine hashbrowns, butter, salt and pepper
Add ham and cheese and stir until well combined
Spread mixture into baking dish evenly. There pan will be very full, don't worry the eggs will be absorbed into the mixture.
In a small bowl, combine the eggs and milk
Pour evenly over hashbrown mixture
Top with ¼ cup cheese
Baking at 350 degrees for 45 minutes. Cover dish with foil and continue cooking for about 15 minutes more or until a knife inserted in the center comes out clean.
Make Ahead
Mix casserole following instructions. Cover in plastic wrap and place in refrigerator over night. Remove 30 minutes before baking. Bake following instructions.
Happy Holidays!
Finally, we wish you wonderful and also delicious holidays with all your loved ones! Keep in mind to ask all your further questions in the comments section. We are here for you! Also, don't hesitate to share your tasty experiences with us.