Do you struggle to get your kiddos to eat healthy? It's doesn't get much easier than these Fruit Kabobs for Kids. They are as fun to make as they are to eat too. 
Since Valentine's Day is coming soon, we added heart shaped fruit to these Fruit Kabobs, but I think they are perfect for anytime really. 
During the Valentine's Day holiday, it's hard to get away from the rows of chocolate and candy. If you are like me, you are thinking  – I just started my New Years diet and here is a brand new batch of temptation – or – I really would love to have something healthy to serve my family that they will love.
Well these Fruit Kabobs are perfect. They are quick, easy, and really fun to make. We used wooden skewers, but if you have little children, you can serve them on a plastic fork or even a straw, depending on how small the children are. You can also serve the Fruit Kabobs with dip, we like either Creamy Lime Dip or Fluffy Fruit Dip is delicious too.
All you will need is some of your favorite fruits, a small heart shaped cookie cutter, and some wooden skewers (we used 6″ skewers). We used blueberries, strawberries, pineapple, honeydew, and cantaloupe.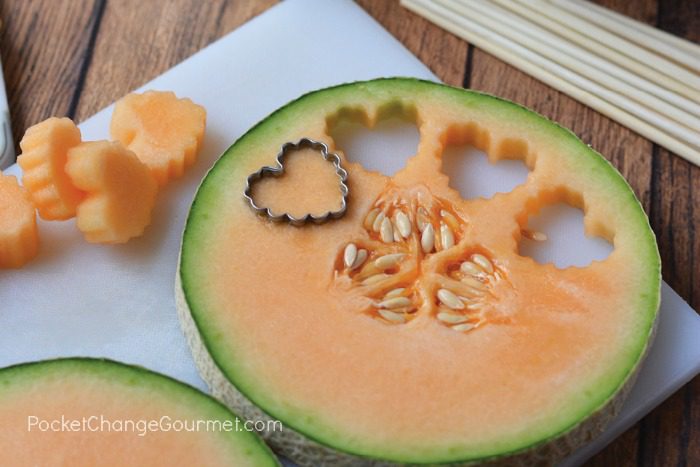 Slice the whole cantaloupe into large 1″ rounds. Then use the cookie cutter to cut it into heart shaped designs. How cute is that? Then, cut up the rest of your large fruit into good, bite-sized chunks.
Once all of your fruit is cubed and cut out, start threading your kabobs! It's just that simple.
Voila! These Fruit Kabobs for Kids are beautifully colorful and HEALTHY! They are great for any Valentine's Day party or even just an extra special snack. You could surprise your family by making them ahead of time or involve the whole family in the process, because even little kids can thread the kabobs with adult supervision.
These Fruit Kabobs can be eaten alone and they are also wonderfully paired with a chocolate fondue. It is amazing to me how something as simple as placing fruit on a wooden skewer can make it look elegant and inviting. I love fruit, but there is something about it being in the form of a kabob that just makes me want to eat more of it. Not to mention, it makes a gorgeous center piece. Your family will know just how much you love them when they see these simply elegant Valentine Fruit Kabobs, whether it's on Valentine's Day or any other day. They are wonderful treat.
You may also like this Fruit Dip Fondue, it's a super fun way to serve fruit.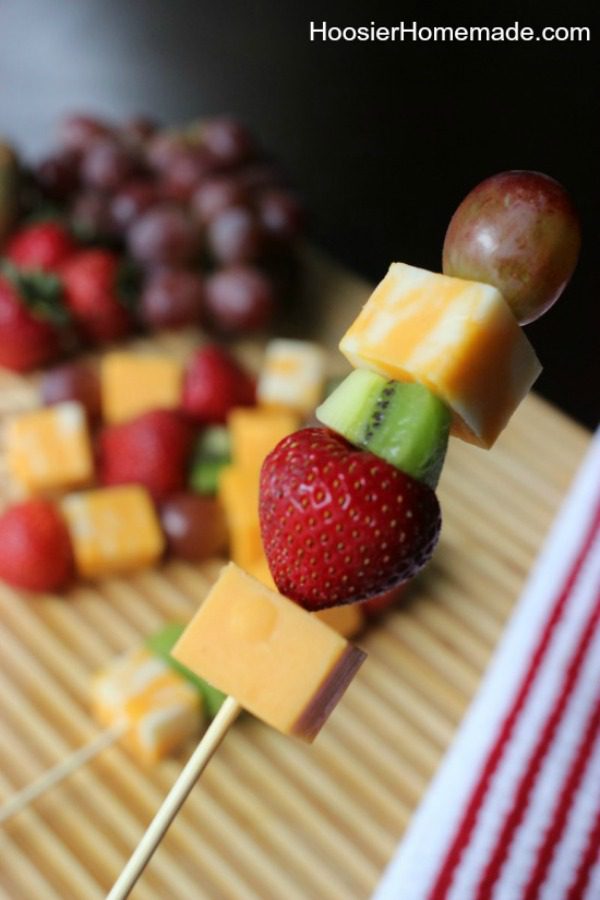 Or add some cheese to the kabob for a delicious and pretty presentation with these Fruit & Cheese Kabobs.
Print
Fruit Kabobs for Kids
Do you struggle to get your kiddos to eat healthy? It's doesn't get much easier than these Fruit Kabobs for Kids. They are as fun to make as they are to eat too.
Various pieces of fresh fruit such as:
Blueberries, washed
Strawberries, washed and the stem removed
Honeydew Melon, cut into chunks
Whole Cantaloupe, sliced into large 1″ rounds
Fresh Pineapple, cubed
Small heart shaped cookie cutter
Wood Skewers (shown are 6″ skewers)
Instructions
Use a small heart shaped cookie cutter to cut cantaloupe into heart shapes.
Thread fruit onto a kabob as desired! Shown: Blueberry, Cantaloupe, Strawberry, Honeydew Melon, Blueberry, Pineapple, Blueberry
Author:

Prep Time:

10 mins

Category:

Side
Mark is a self-taught cook specializing in Asian cuisine. Mark's passion for food began at a young age when his parents finally allowed him to attempt cooking. Since then, he's found himself experimenting in the kitchen, watching cooking shows, and reading food blogs. Mark lives in Toronto, Canada, where he works as a restaurant chef.