French Toast filled with Strawberry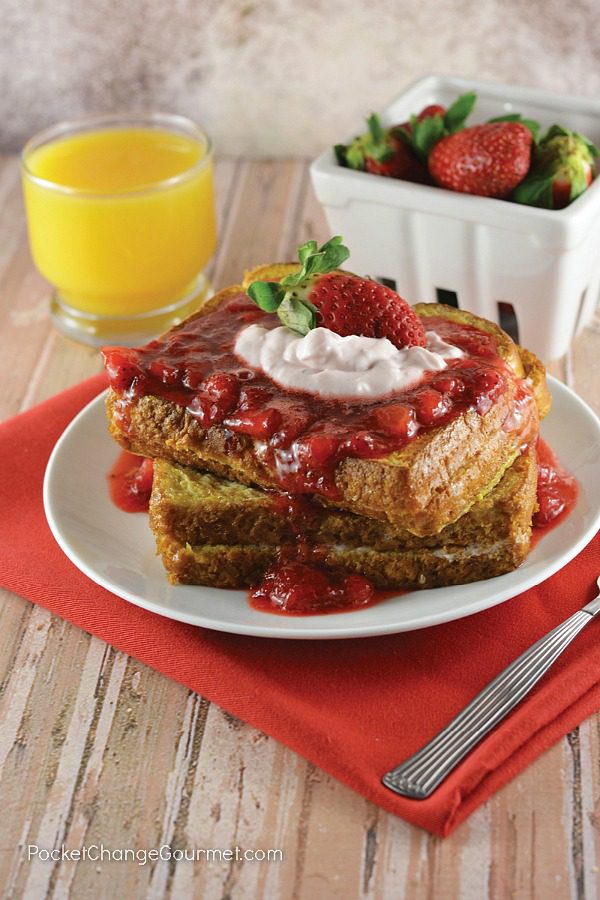 Author:
PocketChangeGourmet.com
3 ounces cream cheese, softened
1 single serving size container strawberry yogurt (about 6 ounces)
¼ cup finely chopped strawberries
1 cup chopped strawberries
¼ cup sugar
2-4 Tablespoons water
8 slices of bread (white, wheat or any type of bread you desire)
4 eggs
¼ cup milk
1-1/2 teaspoon vanilla, divided
In a small bowl with a hand mixer beat cream cheese until soft. Add ¼ cup finely chopped strawberries, yogurt and ½ teaspoon vanilla. Beat until mixed well and set filling aside.
In a small saucepan, combine 1 cup chopped strawberries, sugar and water. Heat on medium heat for about 3-5 minutes. Mixture will come to a boil. Stir and cook until sauce thickens. Remove from heat.
In a shallow bowl or dish, whisk eggs, milk and 1 teaspoon vanilla. Spread 3 tablespoons of strawberry filling onto bread. Top with another piece of bread. Dip sandwich into egg mixture, coating both sides.
Cook on a greased skillet until each side is golden brown. It may take longer to cook than a standard french toast. Remove from heat and serve with sauce and remaining filling on top.
Recipe by
Pocket Change Gourmet
at https://pocketchangegourmet.com/french-toast-filled-with-strawberry/