Welcome to Delicious Dishes Recipe Party #15!
We hope you had a great weekend!  Did it snow where you live?
It did for a little in my corner of the world, but then the sun came out and I'm hoping
we've seen the last of snow here for quite awhile!
Delicious Dishes is a weekly link party where bloggers can share their
most delicious recipes all while checking out the amazing recipes that
other bloggers are sharing.
Each week we will be featuring our favorite recipes from the week before
and pinning them to our Delicious Dishes Pinterest board.
We hope you'll have fun with our party…we know we will!
 And remember…each link you share here will be  seen on each of the blogs listed below… 
Liz LOVED Hawaiian Macaroni Salad from Sweep Tight
Cynthia LOVED Fresh Fruit Tart from An Italian in My Kitchen
Lois LOVED Strawberry Pound Cake Parfaits from Baby Loving Mama
Rose LOVED Cherry Pie Bars from Baking Beauty
Melissa LOVED Baked Chicken and Grain Pasta Medley from Thinking Outside the Sandbox
The recipes with the MOST CLICKS last week were…
#1 Banana Pudding Eclair Cake from Sweep Tight
#2 Crock Pot Spicy Chicken Alfredo from Flour on My Face
#3 Homemade Ranch Seasoning Mix from Juggling Act Mama
We pin all your amazing recipes!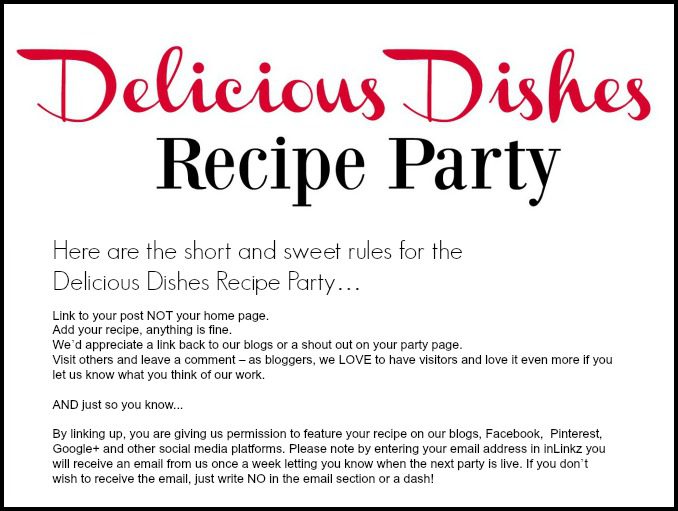 Now, let's get this DELICIOUS party started!