The holidays are the most wonderful time of the year. They are also by far the busiest. Our Monthly Menu Plan for December keeps that in mind. We've got your dinners planned for you so that you can take that time to breathe, relax, and enjoy the holidays.

This month, when you are at your busiest, the slow cooker is going to be your best friend. Whether you are planning a dinner at home like Make Ahead Sloppy Joes, or you are feeding many for a family gathering (you'll definitely want to serve them a Holiday Ham with all the fixins'), stress-free meals is what you'll want all month. And if there is any stress left after cooking these meals, I suggest dessert! Cherry Almond Bars are THE dessert to try this month!
We have many readers asking for all of the Monthly Menu Plans and the Printable pages to be in one location. So, we put them all together on a special page for everyone. Grab over 3 years worth of Budget Friendly Recipes and Menu Planning Tips too!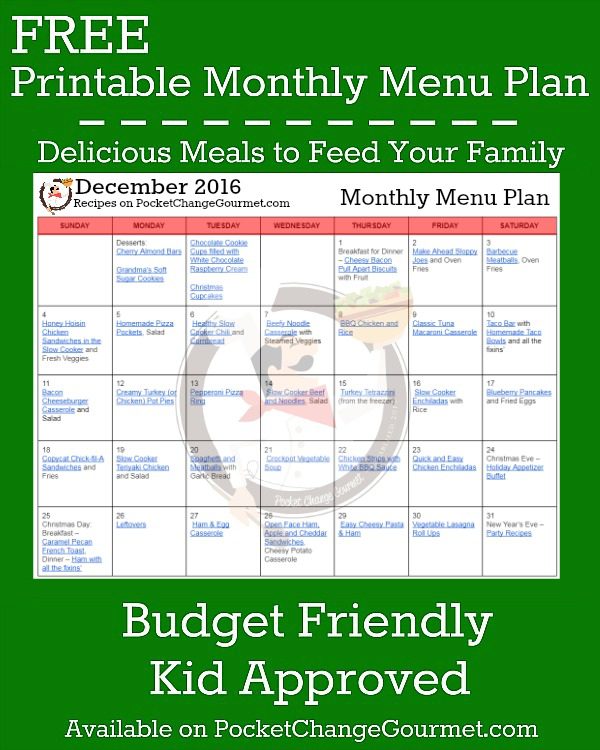 We've also received countless suggestions of a grocery list to go along with our meal plans, so starting 2017 we will be providing the list! Yay!
December Menu Plan
1 – Breakfast for Dinner – Cheesy Bacon Pull Apart Biscuits with Fruit
2 – Make Ahead Sloppy Joes and Oven Fries
3 –Barbecue Meatballs, Oven Fries
4 – Honey Hoisin Chicken Sandwiches in the Slow Cooker and Fresh Veggies
5- Homemade Pizza Pockets, Salad
6 – Healthy Slow Cooker Chili and Cornbread
7 – Beefy Noodle Casserole with Steamed Veggies
9 – Classic Tuna Macaroni Casserole
10 – Taco Bar with Homemade Taco Bowls and all the fixins'
11 – Bacon Cheeseburger Casserole and Salad
12 – Creamy Turkey (or Chicken) Pot Pies
13 – Pepperoni Pizza Ring
14 – Slow Cooker Beef and Noodles, Salad
15 – Turkey Tetrazzini (from the freezer)
16 – Slow Cooker Enchiladas with Rice
17 – Blueberry Pancakes and Fried Eggs
18 – Copycat Chick-fil-A Sandwiches and Fries
19 – Slow Cooker Teriyaki Chicken and Salad
20 – Spaghetti and Meatballs with Garlic Bread
22 – Chicken Strips with White BBQ Sauce
23 – Quick and Easy Chicken Enchiladas
24- Christmas Eve – Holiday Appetizer Buffet
25 – Christmas Day: Breakfast – Caramel Pecan French Toast, Dinner – Ham with all the fixins'
26 – Leftovers
27 – Ham & Egg Casserole
28 – Open Face Ham, Apple and Cheddar Sandwiches, Cheesy Potato Casserole
30 – Vegetable Lasagna Roll Ups
31 – New Year's Eve – Party Recipes
Desserts for the Month