They say that March comes in like a lion and goes out like a lamb, I don't know about anyone else but it sure felt like March is going out like a lion over here. It was a busy month full of kid activities, work obligations and projects around the home. Thankfully, our menu was planned out in advance so we never had to worry about what was for dinner. We'll be doing the same thing with our April menu plan. It really does make life less stressful.

This month we have a couple of special days planned which include Easter and a larger dinner to go with it as well as a special birthday dinner. Those days are planned into our menu as well as any night we might be going out to dinner with friends. No matter what your plans are, we have 30 fabulous, budget-friendly, kid-approved meals plus 4 delicious desserts for you to feed your family this month. Enjoy!
We have many readers asking for all of the Monthly Menu Plans and the Printable pages to be in one location. So, we put them all together on a special page for everyone. Grab over 3 years worth of Budget Friendly Recipes and Menu Planning Tips too!
1 – Fiesta Skillet Dinner, Salad and Bread
2 – Classic Spaghetti & Meatballs, Salad and Garlic Bread
3 – Easy French Dip Sandwiches, veggies and dip
4 – Slow Cooker Rotisserie Chicken, Mac & Cheese, Applesauce
5 – Easter Dinner
6 – Homemade Chicken Nuggets and Fries {Our oldest son turns 24 today – Birthday Dinner}
7 – Bacon Cheeseburgers and Fried Smashed Potatoes
8 – Fried Egg Sandwiches and Fruit Salad
10 – Cheesy Pasta and Ham
11 – Make Ahead Sloppy Joes and Oven Fries
12 – Slow Cooker Teriyaki Wings and Rice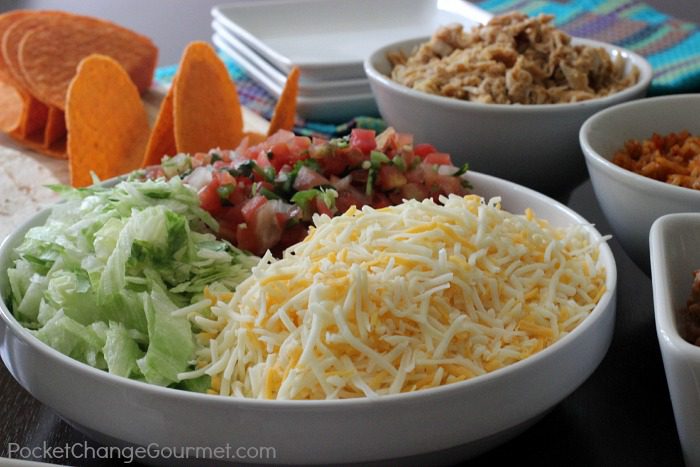 13 – Vegetable Country Skillet
14 – Easy Barbecue Chicken Salad

15 – Taco Bar, Homemade Salsa and Chips
16 – Shrimp Scampi with Linquine and Salad

17 – Pizza Sliders
18 – Slow Cooker Pulled Barbecue Chicken Sandwiches, Oven Fries
19 – Mix and Match Burger Bar, Potato Salad
20 –Blueberry Pancakes and Fresh Fruit Smoothies
21 – Swedish Meatball Casserole and Salad

22 – Quick & Easy Cheesy Chicken Enchiladas
23 – Kung Pao Chicken and Rice
24 – Pepperoni Pizza Ring
25 – BBQ Meatballs, Mac & Cheese
26 – Buttermilk Fried Chicken Strips, Mashed Potatoes and Corn
27 – Quick & Easy Cheeseburger Pies and Oven Fries
29 – Seven Layer Southwestern Salad
30 – Grilled Chicken Philly Sandwiches and Potato Salad
Desserts for the Month