Ah…Macaroni & Cheese…the ultimate comfort food that everyone loves! Our boys pretty much grew up on it, as I'm sure it's a favorite in your home too!
We were challenged by Tina from Moms Crazy Cooking to search blogland and find a recipe for Macaroni & Cheese, cook it and share it with our readers. Well…after watching The Pioneer Woman last weekend on Food Network, we couldn't help but try her Baked Macaroni & Cheese.
Oh and of course…we just had to add some bacon too! Here's are the ingredients we used…
The cooking process is pretty easy, although you do need some time to cook the cheese sauce and not be distracted. Starting with a simple rue of butter and flour, then adding the milk. Basically it's the same process as gravy, just a bit different. Adding the beaten egg was a first for me, just be sure to temper it by drizzling about 1/4 cup of the hot milk mixture into the egg and whisking.
We used Sharp Cheddar Cheese and grated it with the box grater, but you can certainly buy shredded bagged cheese. The bacon was baked in the oven, we have found it cooks more evenly and you don't have the mess in your kitchen. Just place a oven safe cooling rack on top of a cookie sheet, and cook the bacon at 400 degrees for about 20 minutes.
After the cheese sauce is done, mix the cooked macaroni in and carefully pour into a baking dish. Yes, this is my Deep Covered Baker from Pampered Chef that we shared our Fresh Green Beans in.
Comfort food at it's best. Recipe from PocketChangeGourmet.com
Ingredients
4 cups dried macaroni
1 egg beaten
1/4 cup {1/2 stick} butter
1/4 cup flour, all-purpose
2 1/2 cups milk
2 teaspoons dry mustard
1 pound, 16 oz. Sharp Cheddar Cheese, grated
1/2 teaspoon Kosher salt
1/2 teaspoon seasoned salt
1/2 teaspoon black pepper
Instructions
Cook macaroni until almost done
In a small bowl, beat egg
In a large pot, melt butter and sprinkle flour. Whisk together over medium low heat.
Cook mixture for 3-5 minutes, whisking constantly, until smooth and bubbly
Pour in milk and add mustard, whisk until smooth.
Cook for about 5 minutes until thick.
Reduce heat to low.
Take 1/4 cup milk mixture and drizzle into egg, whisking constantly. Stir until smooth.
Add egg mixture to milk mixture, whisk until smooth.
Add cheese and stir until melted
Add salt, seasoned salt and pepper to taste
Fold in cooked macaroni
Pour into buttered baking dish, add bacon if desired and bake at 350 degrees for 20-25 minutes or until bubbly
http://pocketchangegourmet.com/baked-macaroni-cheese/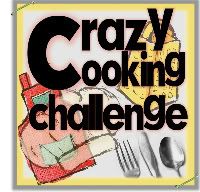 Enjoy the other Macaroni & Cheese Recipe over at the Crazy Cooking Challenge
Linking to…Ingredient Spotlight